GloucesterTimes.com, Gloucester, MA
July 17, 2007
Steven A. Milone
Steven A. Milone
Vice President of Circulation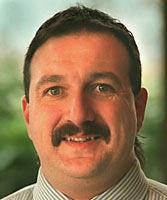 Steve has been with the Eagle-Tribune for 17 years. A graduate of Salem state College, he began his newspaper career back in 1983 in the transportation department. He served in various managerial positions until July 2000, when he was named to his current position.

He lives in Methuen, with his wife Deidra, and children Nicholas, Zachary and Christopher. Steve also serves on the operating committee for the Massachusetts Circulation Executives Association.
To contact Steven Milone please fill out the form below.