GloucesterTimes.com, Gloucester, MA
December 29, 2009
Offbeat Stories of the Year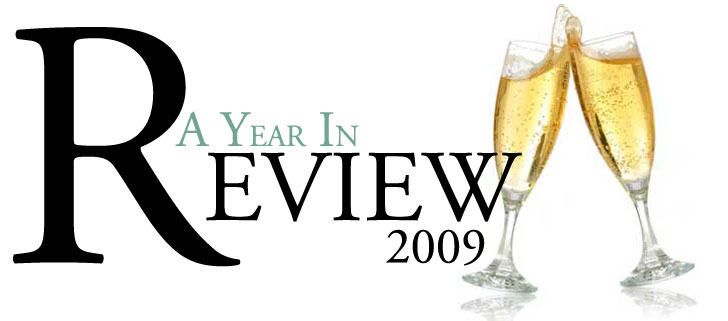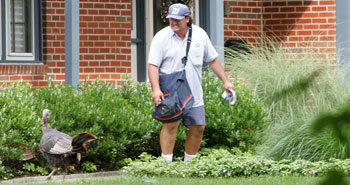 Neither rain, nor snow nor gloom of night can stop the mail from being delivered — but an aggressive gang of wild turkeys briefly put the clamps on deliveries in a South Street neighborhood in January. Reportedly offered food by a neighbor, the turkeys defended their "territory" by attacking mail carriers to such a degree that state environmental police encouraged the carriers to use umbrellas to ward them off. Things seemed to return to normalcy until August, when Times photgrapher Mary Muckenhoupt catpured one carrier using pepper spray to fight off an assault by one of the birds.
2. Sea serpent graffiti falls victim to vandals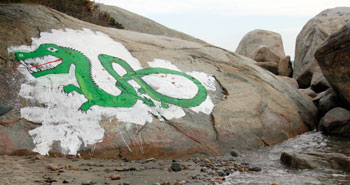 If the early-19th century visit by a sea serpent to Gloucester Harbor is legendary, so, too, was the supposed sea serpent painting that adorned a rock on Cressy's Beach for, as it turned out, some 55 years. But the celebrated piece of graffiti was destroyed by vandals who covered it in white paint in early October. And that cast new light on the 1950s work by a local artist named Robert Stephenson, who actually said it wasn't a sea serpent at all, but a depiction of the dragon Quetzacoatle, an ancient Aztec deity. Within days, another still unidentified local graffiti artist painted a new dragon over the whitewash.
3. Gloucester's 'offcial' Barney Bags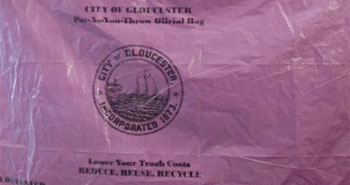 When they made their January debut, Gloucester's new Pay-As-You-Throw" trash bags raised eyebrows over their odd square shape and their grape color that led some, including Mayor Carolyn Kirk, to call them "Barney bags," after the kid's TV purple dinosaur. But those who looked closer found yet another anomaly — a misspelling of the word official. A mistake? Apparently not. Kathy Middleton, then the city's recycling chief, said the misspelling was intentional, designed to limit the chance for counterfeiting. Lest anyone think that seemed paranoid, Gloucester police responded three weeks into the new program to a complaint about an unknown offender who had dumped a neighbor's trash into the street on Thurston Point Road — and made off with the bag.
4. Police: Nude woman robs friend's home
Police briefs can often include house breaks, and they can sometimes include indecent exposure cases. But police got a rare combo when they were called to Cobblestone Lane in October. The first call reported that a woman was naked, intoxicated and "out of control" outside a friend's home. When police arrived, they found the woman was gone, but had left all of her clothes at the scene. After a search of the area turned up nothing, police were called back a short time later on reports that the 24-year-old Tewksbury woman had apparently broken into her friends' home while they and police were searching for her. According to police reports, $150 in cash and two bottles of prescription pills were taken from the home, and the victim's bedroom was ransacked and covered in shaving cream.
5. Man takes police cruiser to keep it from 'punks'
Is a crime a crime when it's committed for a logical reason? A Gloucester man had a charge of "unauthorized use of a motor vehicle" — a police crusier — continued without a finding earlier this month. And while there's no hard evidence his justification came into play, it might not have hurt. While responding to a call on Rogers Street, police officers didn't find the cruiser where they had left it. As it turned out, the man — caught a short time later — had hopped into the open, running cruiser and driven it a short distance because he feared "punks were going to take it."