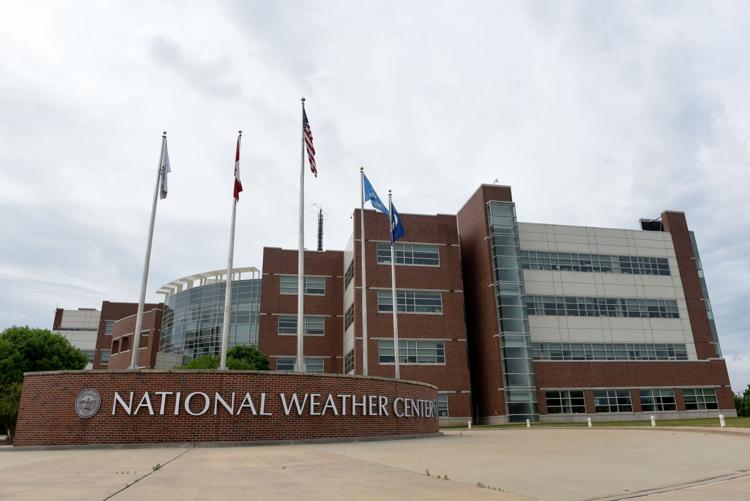 NORMAN, Okla. — If there's a severe weather watch issued anywhere in contiguous United States, it originates in Norman, Oklahoma.
The National Weather Center, a five-story complex on the southeast corner of the University of Oklahoma's Norman campus, houses a series of organizations with a variety of focuses but one collective goal: to better understand and predict weather.
Building the National Weather Center in Norman was not an arbitrary decision, according to researchers who work there. Friday marked the 20th anniversary of a tornado outbreak across the Central and Eastern U.S. that spawned 154 tornadoes, including a powerful EF5 tornado that hit Moore, Oklahoma, just a few miles north of Norman. Those tornadoes killed 40 people in Oklahoma, destroyed more than 8,000 homes and caused more than $1 billion in damage across the state.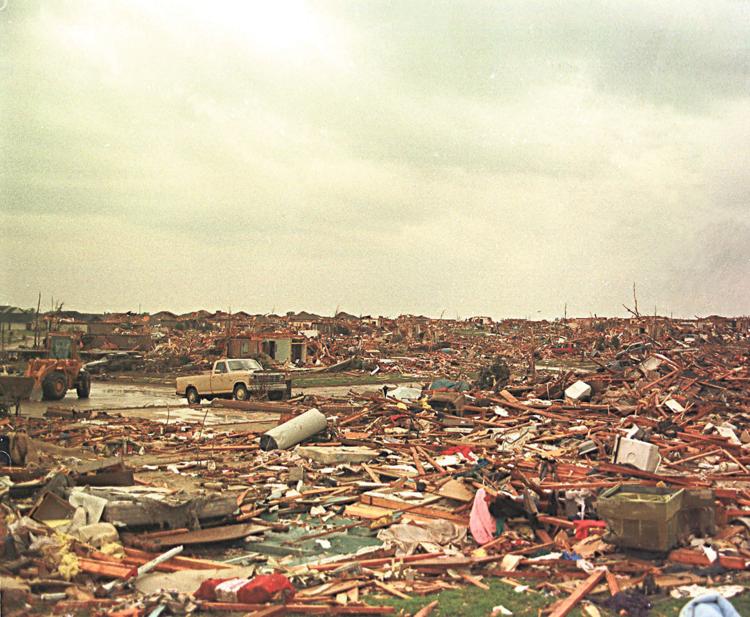 After touring the damage in Oklahoma in May 1999, President Bill Clinton said he "very strongly" supported establishing a National Weather Center at the University of Oklahoma. Seven years later, the 250,000-square-foot, $69 million facility opened in 2006.
Since then, a robust weather industry has developed in Norman as well. Weather Decision Technologies, which was co-founded by President Donald Trump's science advisor Kelvin Droegemeier when he was a professor at OU, is based in Norman. The company assisted an operation in Thailand last fall to rescue 12 soccer players trapped in a cave.
In 2017, the Japanese company Weathernews and Canadian company Nanowave agreed to partner to manufacture portable weather radars in Norman based on a device developed in coordination with OU researchers and students. They announced their partnership in the National Weather Center's atrium.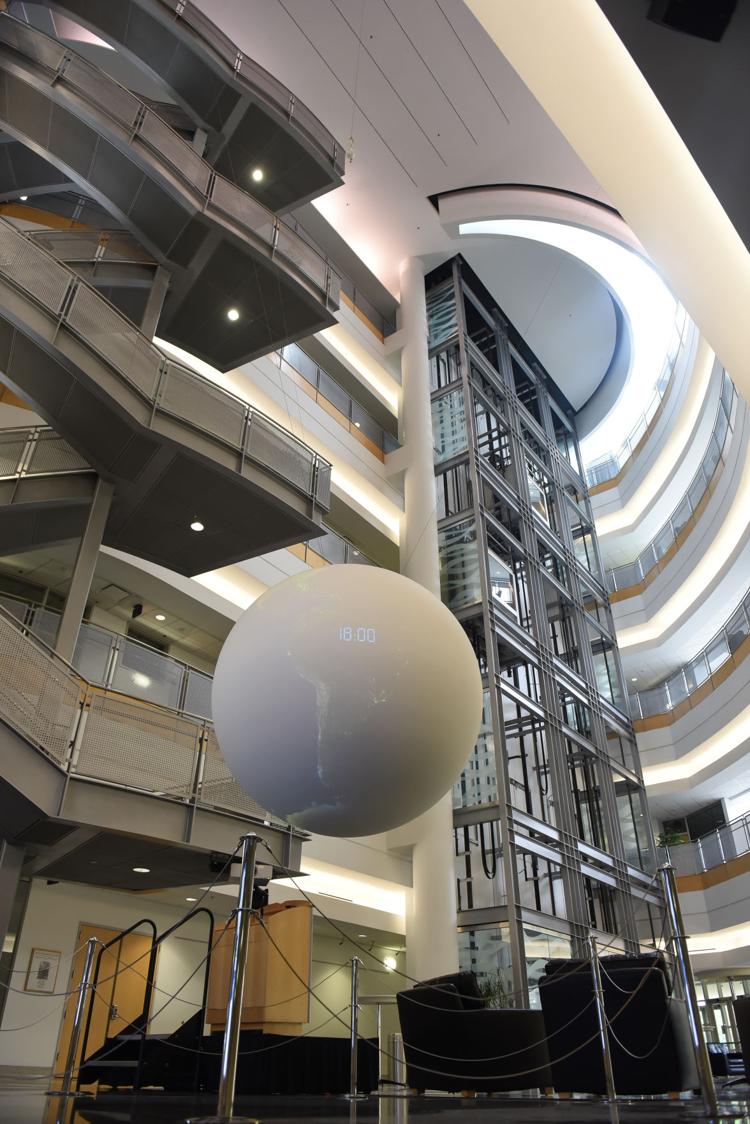 The center is home to 550 employees. It features a vast lobby that's open to the public and a large globe hanging from the ceiling that symbolizes the center's international reach. All five floors and a glass elevator are visible from the atrium: Meteorologists do enjoy looking up, after all.
For residents, having the epicenter of severe weather research in their backyard is a mark of pride.
"Having it here makes me feel safer," Norman's Ann Marie Eckart said. "I know that the latest research and technology and the brightest minds are right here in our town looking at our weather. Yes, we're spoiled and pampered by the extra attention and better information but, hey, they get a really interesting place to study wild weather in return."
The future of predicting severe weather
In addition to forecasting severe weather across the continental United States, scientists in the National Weather Center are working to make more accurate predictions faster in an effort to save as many lives as possible. That's a tall order, said Chief of Forecast Operations Bill Bunting.
"When you've analyzed all the data you can possibly look at, there are still questions about whether a thunderstorm will develop, where it will develop and what kind of storm it will be," Bunting said. "Those questions remain 20 years after May 3, 1999, and will probably exist 20 years from now. Those are hard questions to solve."
That's where the Hazardous Weather Testbed comes in, a sort of meteorological brainstorm that produces new concepts and models that will be used by meteorologists across the United States, said research scientist Burkley Gallo. Scientists in the HWT are working to improve their ability to forecast severe weather while testing experimental warning procedures.
Across the hallway on the second floor of the National Weather Center, the National Severe Storms Laboratory is preparing to launch TORUS, which stands for Targeted Observation by Radars and UAS (Unmanned Aerial Systems) of Supercells. This new project will send unmanned aircraft to view thunderstorms from the air to better understand how tornadoes are formed.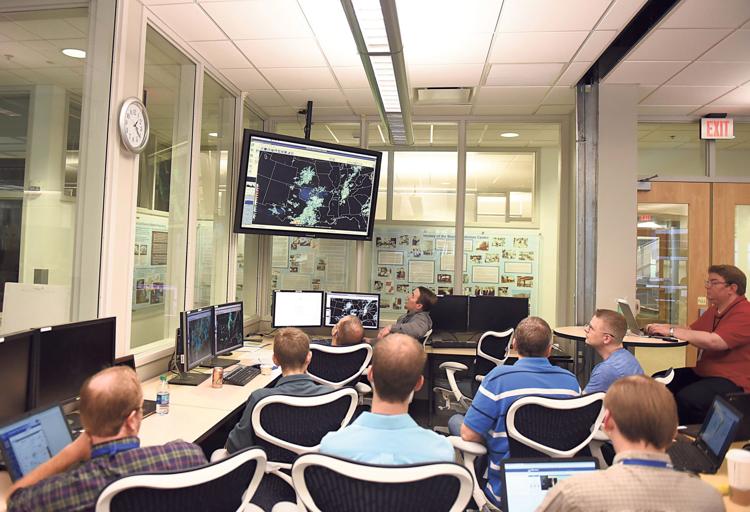 The average time between issuing a warning until a tornado hits is 13 minutes, according to the National Oceanic and Atmospheric Administration (NOAA). Administrators in charge of hospitals or schools, emergency mangers and first responders often need more time than that — it can take at least 30 minutes to evacuate a hospital. Researchers know increasing that lead time is vital to saving more lives, which is the goal of another severe storms laboratory project, Warn-on-Forecast.
While still experimental, Meteorologist in Charge David Andra said the project has produced success stories. On May 16, 2017, when an EF2 hit the town of Elk City, Oklahoma, the tornado killed one person, injured 10 and leveled homes; but the toll could have been much worse.
Andra said weather service forecasters were able to more accurately pinpoint that a tornado was likely to hit Elk City because of the project. In turn, this information was communicated to local officials and media hours before the storm hit.
Accurate warnings not only give people in the path of potential tornado more lead time, they also increase public trust in forecasts from the National Weather Center.
"That's why we have a tendency to be a bit cautious in our forecast," Bunting said. "If we are ringing the bells and saying this is a really dangerous day, know that's not something we do often. Last year we didn't do it at all. So when we speak, we want people to listen."
The research being done inside the National Weather Center impacts meteorologists across the country. Heather Cross, a forecaster for the National Weather Service office in Little Rock, Arkansas, graduated from OU with a degree in meteorology. She said having multiple federal entities under one roof connected to an educational environment has sped up the timeline on technological advancements in forecasting.
Cross said the National Weather Service — part of NOAA — has a training branch at the center to make sure meteorologists across the country are up to date on how to use the newest technology.
"I think it's really important that they're so close," she said. "Having everything together at the weather center helps promote that environment of collaboration and our main mission: to help save lives and protect property."
As the science progresses, that mission remains the same, as evidenced by the hive of activity inside the National Weather Center every spring.
"When I went to school in the mid-'80s, people said Tornado Alley had shifted and was no longer in Oklahoma," Bunting said. "I told them 'no' then, and since, history has proven that Tornado Alley hasn't shifted. In the end, the atmosphere will produce tornadoes in areas where it has historically done.
"It's been quiet here since 2013. We've been fortunate. It can change on a dime. It could change today. You never know."