In the interregnum between the golden days of late October and wintry onset of early November, Richard Beal built a new flounder trawl net for the Explorer II. By hand, by himself. An assembly line of one.
The project took him the better part of six days in a space on the first floor of a cinder block building that opens onto a dock off Main Street, offering a view across the way of the Jodrey State Fish Pier, right where it elbows back into the channel.
Beal methodically knit the mounds of synthetic twine into the net that, when laid out, cast a field of cross-hatched shadows on a concrete floor dappled by the intermittent morning sun of late fall.
The soundtrack to his work was provided by the usual shore-side mashup: part mechanized hum, part seagull scream, a duet that could only be found along a waterfront.
Beal, standing for a moment in bas relief against the light streaming into his workplace, stopped for a moment to tell a story about the difference between Gloucester fishermen and their counterparts in New Bedford, way back in the day.
"Back then, for some reason, nobody in New Bedford knew how to mend and everybody from Gloucester knew how to mend," Beal said. "Every boat in New Bedford wanted a Gloucester guy on the crew, because we all knew how to mend."
He looks at his work for a moment and then looks up.
"I can trust this net," he said.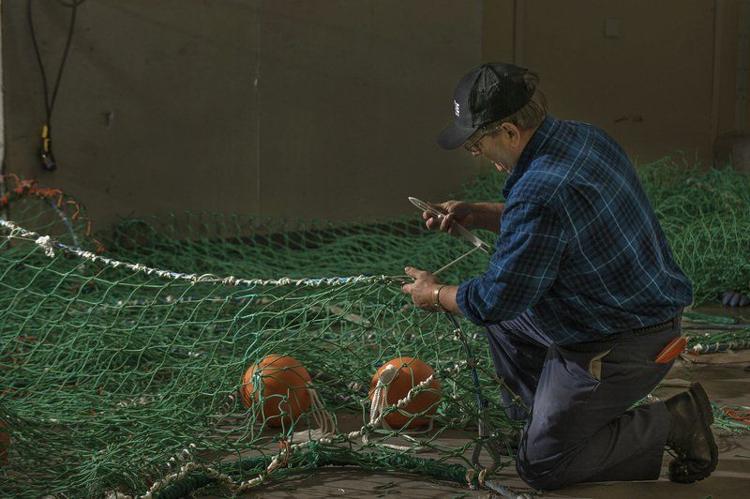 Trust is a valuable commodity, though in mighty short supply around the waterfront of Gloucester these days, especially between the fishermen of the city's dwindling groundfish fleet and the scientists and bureaucrats of NOAA, the federal agency that manages the nation's fisheries.
To protect what it considers to be a highly imperiled cod stock, NOAA last Thursday instituted a litany of rolling closures of prime inshore groundfishing areas in the Gulf of Maine, most of them in close proximity to Cape Ann and right in the wheelhouse of the city's small-boat groundfishing fleet.
Those closures effectively end cod fishing in the western Gulf of Maine for the next six months and potentially well into the 2015 fishing season — and perhaps for much longer, depending on what the New England Fishery Management Council comes up with in their 2015 fishery management plan currently being assembled.
To Beal and the other groundfishermen, the emergency measures will reduce the 2015 season to mere rumor because of the way they remove cod from the picture, and by the manner in which they restrict fishing for other groundfish species to guard against cod bycatch.
To Beal and his contemporaries, the measures represent the last, lethal shot across the bow of the once great Gloucester groundfishing armada. 
Can it survive this most recent rogue wave of vise-grip regulation, particularly while so many boat owners already are hanging by a filament over the fires of insolvency?
"The inshore fleet, no," he says after a full five seconds of consideration. "It's going to be totally impossible. No possible way."
No equivocation, no doubt.
No possible way.
A fishing life
You know you're probably cut out for a life on the sea when there is an island off the coast of Maine named for a family ancestor.
The Beals hail from Beals Island, a tiny little enclave across from the mainland at Jonesport, up in the part of coastal Maine that is only a couple of relay throws from the Canadian border. It is named for Manwaring Beal, an early settler.
Richard Beal's grandfather, Austin Beal, was in the U.S. Lighthouse Service up in Maine and was transferred to Thacher Island in 1928 and served as one of the keepers until 1945.
"My father was born there in '28 and they lived on the island," Beal said. "Back in those days, there were three families."
His father Lloyd gravitated into fishing. Ultimately, Richard ventured into that orbit and was hooked beyond redemption.
"That's what I do," he said simply. "I went to school and I got accepted to Mass. Maritime Academy. But I wanted to go fishing."
So fishing he went, working first on recreational party boats and then tub trawling. He sold his first fish — cod and haddock — down The Fort in May 1966. He was 14.
The first boat he took fishing belonged to his father. The Ricky B was a 36-foot lobster boat named for him. He has owned boats and operated boats and the list for both is long. The Gannett. The Horizon. The Invader. The Misty Ann and the Fleet Ann. There are more.
Boats, he said, are not unlike children, in that they have their own strengths and weaknesses and they don't easily bend to the will and wisdom of mere human experience.
"You try to change them to the way you like them, but a lot of times it doesn't seem to work out," he said. 'They'll go only so far and that's it. This what you've got, like it or not."
Today, he runs the Explorer II for owner Bonnie Akerley.
"I owned boats in the past, but I'm out of ownership. It just got too hard back in the 1980s and 90s with the restrictions coming in," he said. "I'm a hell of fisherman. I'm not a very good businessman. I do a lot better running boats for other people."
Beal has fished through everything nature and the regulators have set out before him: days at sea, quotas, catch shares, trip limits, quota cuts, area closures, gear restrictions, hot fish, cold fish, fish leasing and Russian trawlers within sight of Thachers.
He is a father to three grown children and was more than a little relieved when none went into fishing.
"Both of my sons wanted to go," he said. "But it's a hard racket."
Once, he had his oldest son Eric with him. Eric, now a cook at Stones Pub, was 14 or 15 at the time.
"It was an eastern rig and a beautiful summer morning," Beal recalled. "We were heading almost toward Eastern Point.'
Beal was in the wheelhouse when Eric approached him.
"He looks at Eastern Point and then looks back at me and says, 'Dad, this just ain't for me'," Beal recounted. "I acted like I was all disappointed and stuff and then when he turned and walked away, I went, 'Yes'!"
Still, for all the travail and financial insecurity, for all the danger and upheaval, there is nothing else Beal can really imagine doing.
Like most commercial fishermen, he ticks off the advantages of a life at sea: freedom and the autonomy of being one's own boss; the challenge of out-thinking a fish and then plucking it living and breathing from the sea. He loves the pure accountability of it, knowing where he stands at the end of each and every day, and just how well he did his job.
But with Beal, there is more. Perhaps it's just the juncture of his career or a softening along the edges that comes with age and wisdom.
Whatever it is, it's no longer just about the business of fishing for Beal. Instead, it's what the business of fishing has allowed him to witness in the wonder and the power and the munificence of the sea. His is a unique perspective and an earned appreciation of a life lived along a knife's edge on a rolling platform.
'The things you see," he said smiling, leaving it at that with a little shake of the head, as if you probably wouldn't believe those sights — or worse, appreciate them — if he told you.
He was referring to the indelible beauty of a life on the water, of sunrises and sunsets viewed from the crystalline ocean's expanse, of seeing the illuminated wash of the Northern Lights and watching football-shaped tuna dart and dash alongside his bow while underway.
"You can be as tough as you want and say these things don't matter, but you see some unbelievable sights," Beal said.
What if he had to give it up? What if the emergency measures prove to be the last nail in this fleet's watery coffin. What then?
This time he pauses for eight seconds. In the end, he doesn't know.
"I've thought of it," he said. "Like most people fishing, I've got nothing beyond what we do. For us, fishing is more a life than a business. I don't play golf or tennis or any of that stuff. I think it's great that people do have hobbies. But I'm a fisherman."
Survival
When people talk about the new area closures of the Gulf of Maine, they're actually talking about 12 separate closures in the western Gulf of Maine that will be implemented, depending on the month, in addition to the existing closures.
The new closures strip away the most lucrative and convenient fishing grounds for Gloucester's small-boat day fleet, which generally operates at a range of 20-30 miles.
So, why close those?
Well, it's like what infamous bank robber Willie Sutton said when asked why he robbed banks.
"That's where the money is," Sutton replied.
Sub in NOAA Regional Administrator John K. Bullard and you get the same response: They're being closed because that's where the cod are.
Because the inshore closures so tightly restrict fishing for other groundfish species, the only unfettered fishing for species other than cod will be well to the east of the closed areas, well past the range of most Gloucester boats.
"All that's going to happen is the cod fish quota the small-boat fleet has right now is going to get bought up by the big boats from other places and the cod fish are still going to get caught," Beal said.
For fishermen, the first question is whether their boat is big enough and powerful enough to withstand the journey and the extended fishing time.
The fiberglass Explorer II, at 49 feet, might be a bit of a tweener. Beal believes it's big enough to get out to the open areas, but only in good weather. That raises the second question:
Is it worth the expense to hire more crew, or the time and expense of resetting gear in order to head out past the closed areas?
Beal thinks most of the fleet's day boats will have to pass.
"The tides are much stronger outside," Beal said. "The deeper you go, there's a buoyancy issue. You need much heavier gear the deeper you go and your efficiency goes right down."
It's not a slam-dunk for bigger boats, either. In fact, life could just about to become more dangerous for those captains.
Every Gloucester dragger from 38 feet to 75 feet in the day-boat fleet is now being operated single-handed by their captains. So, the commitment to fishing beyond the closed area will require the addition of an extra hand or a captain who is willing to take extraordinary risks by working alone.
"It's always been dangerous," Beal said. "But if you gotta feed your family, you gotta go where you got to go and I'm scared somebody is going to get hurt."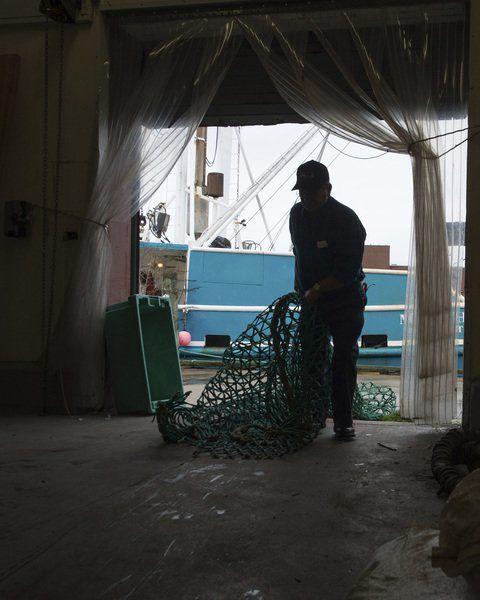 Once, Beal fished with a crew of five. Today, he is both captain and crew on Explorer II. He is 62 and as he gets older, he is less comfortable with the idea of the solitary fisherman.
He has seen enough to know what can happen, how matters can turn deadly in an instant. He understands the erosive quality of time on reflexes and muscle movement.
"I get a little nervous about something happening to me and not being able to get out of the way and not having anybody there," he said.
Not about fish
For Beal, the suffocating restrictions from federal regulators ceased being about fish a long time ago.
"I'm not one of those conspiracy guys," he says. "But something's fishy."
He is now convinced that the dismantling of the Gloucester groundfish fleet is just a piece in the over-arching puzzle that will reveal who will ultimately control and exploit the oceans.
"This is an excuse," Beal said of the quotas and area closings. "This is about what's underneath the water, the gas and the oil and the minerals. It's right there in front of you."
Still, he keeps fishing and hopes to continue even after the emergency measures are in place, depending on what his owner decides to do.
He is asked one final question:
Have you, as an adult, honestly never considered doing something other than fishing?
"Of course, at times," Beal said, slightly resettling the ballcap on his head. "But then you calm down and stuff."
With that, it was time to get back to work on his net, which he really hopes he'll get to use somewhere soon.
Contact Sean Horgan at 978-675-2714, or shorgan@gloucestertimes.com. Follow him on Twitter at @SeanGDT and check out his blog, Glosta Daily, on gloucestertimes.com.