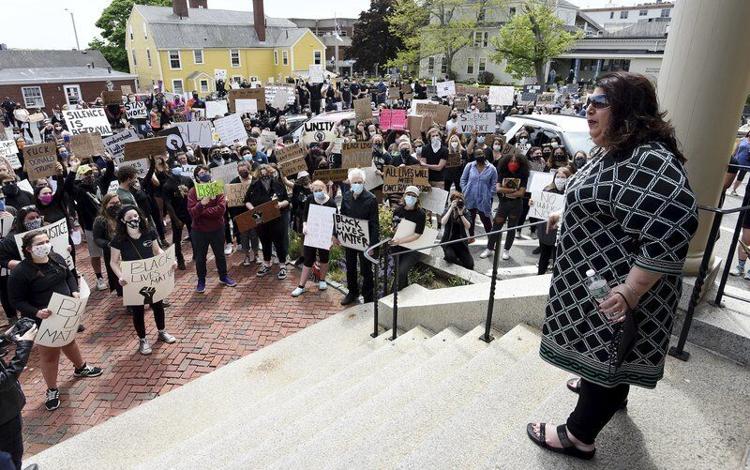 A masked Mayor Sefatia Romeo Theken stood on the granite steps of Gloucester's City Hall and looked out at a gathering of more than 250 protesters. 
"Do we really know what racism is?" she asked the crowd, describing being called a racial slur for Italians all her life, similar to the way black people are slurred. "We are used to it ... You walk around. But really what it is is hatred."
The protesters — who had walked to City Hall from the Fishermen's Memorial on Stacy Boulevard — cheered and raised their cardboard signs in agreement. 
What turned into a marching protest with a passionate speech from the mayor this Tuesday was inspired by a school project by one Gloucester teenager. 
While in a photography class at Gloucester High School, Emily Palk, 17, was given the task of choosing a group that she believed needed a voice and tell its story through the visual arts. 
After completing her assignment on those who had lost their lives due to racial prejudices, she felt as if her work wasn't done. 
"I feel like I need to do more and I want to do more for this issue and so I decided to organize the event," Palk explained to a Times reporter just minutes before the protest began. 
"There have been a lot of unjust killings from police officers and white supremacists across our country, and I feel like justice isn't getting to these people, these innocent lives that have been lost," Palk said. "I just want to hold this to recognize that as a white person I have privilege and I want to use that privilege to spread the message that black people are being murdered and they aren't getting the justice they deserve."
Clergy in support
The Black Lives Matter protest began at the Fishermen's Memorial on Tuesday afternoon in honor of George Floyd and others killed by police forces around the country. A handcuffed Floyd died last week after a Minneapolis police officer pressed his knee into Floyd's neck for several minutes even after he stopped moving and pleading for air. The officer was fired and faces a charge of murder in the third degree.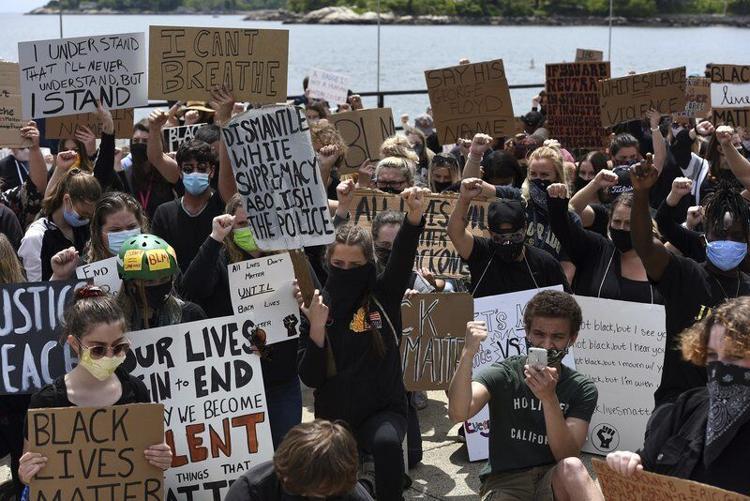 At the start of the protest — roughly 1 p.m. — Stacy Boulevard quickly filled up with people of all ages and from all walks of life. 
Clergy from St. John's Episcopal Church in Gloucester, Trinity Episcopal Church in Woburn, First Congregational of Rockport, and Trinity Episcopal Church of Haverhill came dressed in their clerical collars and black garb in support. 
"I think all of us would agree that, theologically speaking, all people are made in the image of God and when we forget that, it ends up hurting people and causing pain, oppression, and violence," said Bret Hays of St. John's Episcopal Church. "We have to stand up for the most vulnerable in our society."
Others, such as Lucille LePage of Gloucester, just happened upon the protest. 
"I was taking my boulevard walk and saw some friends of mine who were joining in," she explained. "I am just accidentally wearing black today."
Ten minutes later, LePage was holding a cardboard sign that read "Black Lives Matter" alongside the masses. 
Dealing with distance
The protest comes at a time when the world's residents are being asked by government and medical officials to stay distant from each other to mitigate the spread of the novel coronavirus pandemic. 
But Palk said sacrifices have to be made to make a point. 
"Sometimes sacrifices have to be made and spreading the message about this is really important and getting that out while being as safe as possible is really important," she explained. 
Palk said enforcing social distancing at a protest is hard, but everyone was asked to wear their mask and stay apart from each other as much as possible. 
Mobilizing the protest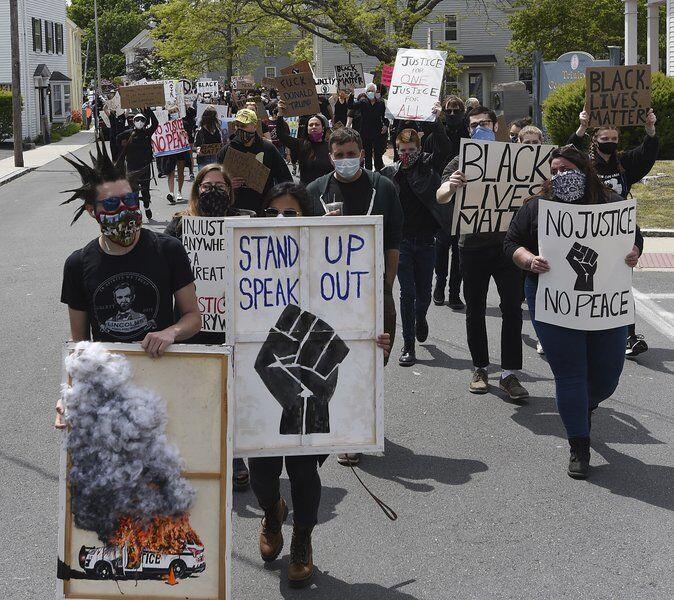 After the protesters gave speeches and shouted prepared chants as a call-and-response on the boulevard, they made their way to City Hall. There the mayor spoke to the social injustices that are permeating the country— highlighting the three words that George Floyd said right before he died. 
"I can't breathe," Romeo Theken shouted, her voice echoing off the neighboring buildings.
At first, there were scattered echoes of the mayor's cry from protesters. But as more people joined, the words got louder and became unified.
"I can't breathe," the protesters yelled, remembering a man who had died last week.
Staff writer Taylor Ann Bradford can be reached at 978-675-2705 or tbradford@gloucestertimes.com.