The very day he graduated from Gloucester High School in 2005, Mike Mitchell boarded a plane for Oklahoma and the beginning of his military career.
The trip to Fort Sill, following his acceptance in a Massachusetts National Guard artillery unit, was the first tangible step toward his ultimate deployment to Afghanistan in 2010 and his immersion in a war that finally ended in August with the fall of the Afghanistan government and military.
But that is getting ahead of things.
Mitchell's path to the nobility of service, and the perils of a combat theater, was first cut on the balmy Tuesday of Sept. 11, 2001, amid the startling airborne terrorist attacks upon the sovereignty of the United States.
He was a sophomore at Gloucester High School, a kid who loved playing football and, like so many others throughout Gloucester's rich history, a young man who'd already given significant thought to serving in the military.
For Mitchell, it was more obligation than choice. It wasn't just something he wanted to do. It was something he felt he needed to do.
Both his grandfathers served in World War II. Joseph Mitchell, his paternal grandfather, was in the Army Air Corps and was a crew member aboard B-17s, the infamous "Flying Fortresses." Frank Mondello, his mother's dad, was an Army infantryman who slogged through the battlefields of Europe.
"I was always fascinated by my grandfathers' stories," Mitchell said. "I had pretty serious lineages on both sides of my family for service."
On that galvanizing and indelible day in 2001, Mitchell, a Gloucester High freshman, was walking past a health class that had a television on. Just as the commentators were describing the first airliner striking the north tower of the World Trade Center in lower Manhattan, Mitchell stood transfixed and watched live as the second jet flew into the south tower.
"I ran back to the carpentry class to tell Mr. Andrews, Jack Andrews, what I saw," Mitchell recounted. "He filled me in a little more on what was happening, that we were under attack. I always envisioned joining the military anyways, but that 100% solidified it when they started saying we'd been attacked."
A rocky road to the front
He was not alone.
"I just remember thinking, 'So this is what we're going to do, right?'," Mitchell said. "And I knew a bunch of kids who had similar goals and similar thoughts on joining. It was solidified that day for all of us."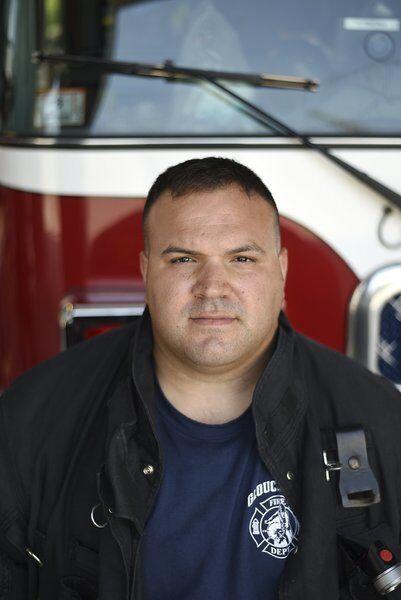 But even in times of war, the road to military service is not always so smoothly grated. Mitchell knew what he wanted to do — what he had to do — but they didn't make it easy for him.
Mitchell wanted active duty. He wanted to deploy. And he wanted to be part of a fighting unit, something along the lines of the Army Airborne.
Genetics and the U.S. Army had different ideas.
"I had envisioned going active duty," he said. "But I ended up being color blind so I couldn't do what I initially wanted."
He wasn't done, though. He shifted his focus to the National Guard.
He convinced the brass to issue a waiver for his eyesight and he was allowed to join a field artillery unit attached to a Massachusetts National Guard reserve unit based in Danvers.
Mitchell, upon completion of basic training, returned home. The original plan of going on active duty had precluded going to college. He hadn't even considered it.
Now he did. He spent a post-graduate year — and played football — at Bridgetown Academy in Maine. That led to Bridgewater State College, where he continued to play ball along with his studies.
"My senior year in college, instead of playing football and going to school, I ended up going to Afghanistan," he said.
It was five years after high school and nine years after 9/11.
In January 2010, Mitchell and the rest of the 101st Field Artillery unit of the Massachusetts Army National Guard deployed to Kabul, Afghanistan.
His primary duty was helping train Afghanistan's fledgling National Police, but there were other responsibilities.
Mitchell's unit also participated in almost 250 convoy runs from Kabul center to a valley region south of the city. It was immensely dangerous duty.
"At least in Kabul, they didn't want to engage with us, really, in small arms fire," Mitchell recounted. "It was mostly suicide bombs and IEDs and roadside bombs. We never got hit by an IED, but there were a lot of near misses."
The Taliban also staged their own manner of Chinese New Year for the American convoys and those that escorted them.
"There was one day where they put out these 105mm Chinese rockets out for us, facing down this mountain side," Mitchell said. "They had this crazy setup where they put a coffee can filled with water. There was a broken circuit. They'd punch a hole in the coffee can and when the water drained out, it completed the circuit and the rockets shot off. They were already long gone."
The unit did suffer a fatality, along with eight critically injured soldiers, in an attack by a suicide bomber near the Kabul airport.
Fellow in harm's way
Mitchell recounted that story on the last Friday of August, one day after ISIS suicide bombers killed 13 U.S. service members and 60 Afghans. Scores more, including 18 U.S. soldiers, also were injured in attacks amid the chaos of the U.S. withdrawal at the same airport.
"It's been a rough couple of weeks for us," Mitchell said.
It's been made tougher by the fact that the 101st Artillery has re-deployed to Iraq. It is the unit's fourth deployment in 15 years.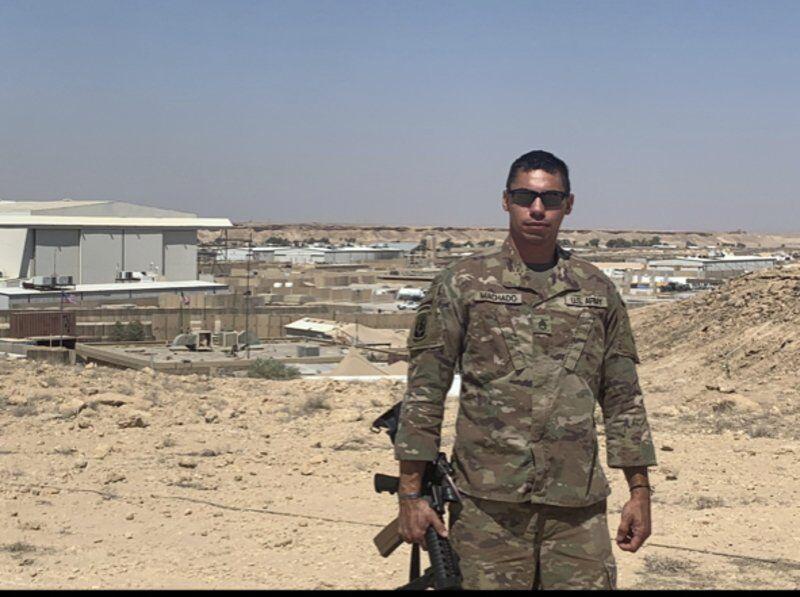 Also, Wellington Machado — another Gloucester firefighter who served with Mitchell in Afghanistan — remains in the unit and is back in harm's way.
"Obviously everybody in the building is thinking about him," Mitchell said. "His family came here from Brazil and he always wanted to do the military. He did JROTC at Gloucester High. And he was actually sworn in as a U.S. citizen in the U.S. embassy in Kabul."
Mitchell, 34, rotated back to the United States after more than 10 months in Afghanistan and now has 10 years on the Gloucester Fire Department.
He and wife Francesca have two sons, Michael, 7, and Joseph, 3.
Mitchell had never really considered joining the fire department until he deployed to Afghanistan. His unit included four or five soldiers whose civilian jobs were on various fire departments.
"Those guys explained how it's a great way to continue serving, something you can do long term in your community," Mitchell said. "I always admired the job but I didn't think it was something I could do personally. Now here I am 10 years later, one-third of the way into my career."
And still steeped in service and giving back. Not unlike that kid in the halls of Gloucester High School on Sept. 11, 2001.
"This is what we're going to do, right?"  
Contact Sean Horgan at 978-675-2714, or shorgan@gloucestertimes.com. Follow him on Twitter at @SeanGDT