Sportswriting isn't real journalism. 
The words, both unexpected and unpleasant, hung in the air like someone who had passed gas at Sunday Mass. They were followed by several seconds of silence that were wince-inducing.
Then Jerry Murphy spoke up, cleared up that gross misconception, and I was able to exhale once again.
"Quite the contrary," said the journalistic giant while teaching a night class on journalism at Salem State in the fall of 1988. "Sportswriters are some of the hardest working, and most talented, workers in the business. What they do is most certainly journalism."
That reply followed Murphy's initial question to the class of 15 or so students, almost all of whom were well into their 30s and beyond. 'What would you like to do in journalism?' he asked, and I, as the youngest person in the room, answered honestly. A fellow student didn't feel sportswriters were on the same level as other journalists and said those four stinging words: "Sportswriting isn't real journalism."
But the late, great Jeremiah Murphy was quick to prove that misguided theory wrong. With his simple response, he cemented my faith in that what I ultimately wanted to do for a living. 
I can't tell you how many times over the last three-plus decades I've looked back on the lessons learned in that undergraduate class. I was getting a journalism education from a guy who was born in Beverly, started his career at the old Beverly Times and wound up working 38 years for the Boston Globe. I was getting an inside look at the tricks of the trade from a guy who had pretty much done it all.
The fact that he's been gone 15 years now hasn't dulled the lessons he drilled into my head.
There were the basics — always have a notebook on hand, don't hesitate to ask pointed questions, be ready to report breaking news on a moment's notice — that stuck with me like honey on a bear's paws. There were also nuances such as "always carry a pencil in case your pen freezes on cold nights." He was talking specifically about going out overnight to report on a fire or a murder, but that sage advice has come in handy many times in arctic hockey rinks covering high school games.
Get to the heart of the story, Murphy said. Write for your readership; don't try to be too fancy. Talk to, and get to know, as many people from all walks of life that you can — you never know who could end up providing you with a big scoop.
Paul Murphy, one of Jeremiah and Kay Murphy's seven children, said his father wrote over 150 columns per year from 1970 until his retirement in 1997 and covered everything from local news in small towns and the war in Vietnam to political clashes in Northern Ireland and the pope in Vatican City. He won a number of national awards during his time at the Globe.
Yet what he loved most was chronicling the characters that made up Boston and beyond. "He once told me when he got the column that was going to write how he feels, not how he's supposed to feel," said his son. "I thought that was pretty good.
"He absolutely loved the newspaper business and writing."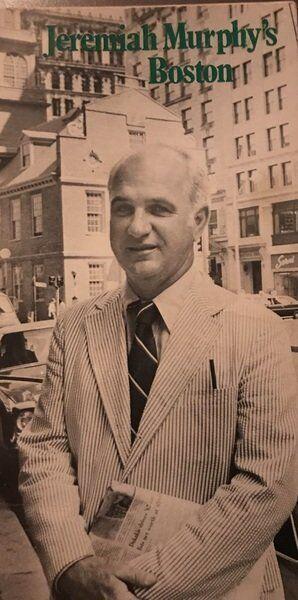 Jeremiah Murphy started out as a sports reporter at The Beverly Times in 1950, making $25 a week. He raised his family in Rockport, making the hour commute in and out of the city each day. He also taught journalism classes ("he loved teaching almost as much as writing," said Paul) at both Boston University and Salem State between 1970 and 1991.
And his words, be they on the written page or spoken in a classroom, left indelible marks on thousands upon thousands of people.
They certainly did — and continue to do so — for this career journalist who considers himself extremely fortunate to have learned from the master.
Phil Stacey, the Executive Sports Editor at The Salem News, writes a Saturday column that appears in The Gloucester Times. Contact him at pstacey@salemnews.com and follow him on Twitter @PhilStacey_SN