BOSTON — An hour before the first pitch of the 2020 Red Sox regular season, Jersey Street was nearly as barren as most New England baseball fields are in January.
There were a few stragglers who made their way down the former Yawkey Way, gawking up at Fenway Park from the outside. A few wore white Red Sox home jerseys, and everyone had a mask or face covering on. 
This is baseball in the summer of 2020, a microcosm of the entire country and life as we now know it.
Because of the ongoing coronavirus pandemic, there were, of course, no fans allowed into Fenway for Friday night's season opener against the hapless Baltimore Orioles. Realistically, there probably won't be spectators in any seats across Major League Baseball the entire season (although the Sox are holding out hope that could change at some point).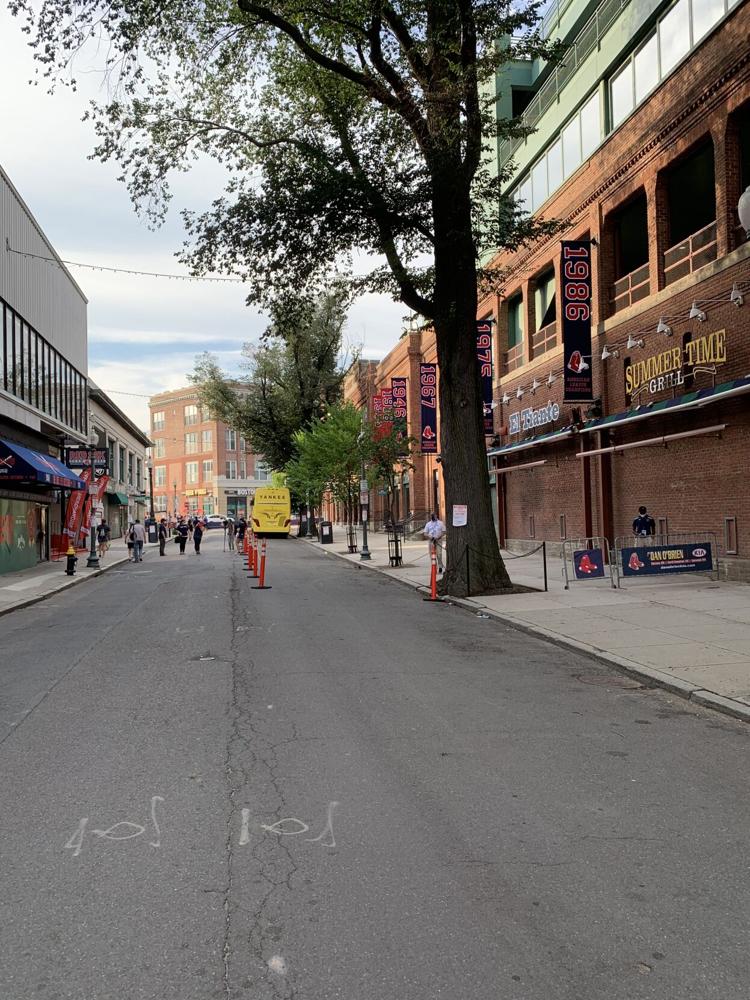 The start of a new baseball season — and Opening Day in particular — is a time of rebirth, new beginnings, the chance to sow the seeds of something potentially special. But the vibe outside the beloved 108-year-old ballpark Friday night was anything but.
There were some obvious and marked differences. This opener, the first of 60 regular season games that each MLB hopes to play this year, was three months later than any previous inaugural Red Sox contest. It was also 81 degrees in the Fens at game time, a far cry from the Fahrenheit that usually registers for April openers.
But there were other deviations that, like so many things that have transpired in our lives over the last four-plus months, seemed so peculiar, unexpected and downright eerie.
It takes this writer more than an hour to reach Fenway on most game nights; depending on the Storrow Drive traffic and where I'm able to find a parking space, it could climb up towards 90 minutes. But I made it from my home to a street spot on Commonwealth Avenue in just 48 minutes, just across from the Buckminster Hotel on Beacon Street. That never happens on game night.
Making the 5-minute walk up Brookline Avenue to the ballpark was another Twilight Zone-type experience. Aside from a half dozen folks holding signs reading "Joe Kennedy (III) for Senate" near the bridge, it was mostly empty. There was no hustle, nor was there any bustle.
You couldn't help but notice a gigantic 'Black Lives Matter' sign en route to the Fens, one that had to be 120 feet wide. It was written in the iconic BoSox font, black on black with a white outline and facing the Mass. Pike as you walked up towards the ballpark. 
The intoxicating smell of hot dogs and sausages cooking nearby brought a bit of familiarity to the peculiar surroundings, but there were few purveyors and even fewer paying customers. Jersey Street, usually teeming with fans clamoring to get in and watch the action unfold, was bereft.
Major League Baseball is doing what it can to help 'normalize' what is decidedly the most unusual summer any of us have ever lived through. Stadiums have piped in crowd noise via the 'MLB The Show' video game in lieu of stone cold silence while the games are being played. Some teams have put cardboard cutouts of 'fans' in seats behind home plate; the Sox did so in their Monster seats atop the left field wall. 
But let's be honest: how weird is it to watch a baseball game with no actual fans in the stands? It's better than the alternative — no baseball at all — but it'll absolutely take some getting used to.
The game itself was anticlimactic. The Orioles are still horrific and the best weapon in Boston's toolbox — its offense — flexed its muscles early and often. They had put up 10 runs by the fourth inning, while Baltimore's anemic attack was making Sox starter Nate Eovaldi look elite.
How long the season lasts is anyone's guess.
But for now and the foreseeable future, the pre-game scene — or lack thereof — is baseball's new normal.
###
Phil Stacey is the Executive Sports Editor of The Salem News. Contact him at pstacey@salemnews.com and follow him on Twitter @PhilStacey_SN